Andy Sturt interview
Oval Racing News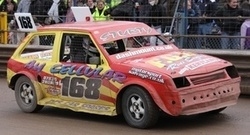 By Rob Griffin
Written on the inside of British Stock Rod champion Andy Sturt's Nova is the slogan: 'Dirty Sturty'. It's a light-hearted reference to his reputation as a hard-charging driver, whose uncompromising style has won him as many enemies as admirers.
"My team gave me the nickname when I was collecting black flags like they were going out of fashion," he admits with a grin. "I'll put it on the car, but I'm definitely not a dirty driver - I'm just very, very aggressive."
It's fair to say the pilot of the red and yellow 168 machine is one of oval racing's more controversial characters. Opinionated, passionate and brutally honest, he's never been afraid to speak his mind, regardless of the possible consequences.
But the 38-year-old insists he doesn't go looking for confrontations – either on or off the track. "I've had quite a few arguments because I say what I think and people don't like that," he says. "However, it's only because I want what's best for the formula."
Andy joined the Stock Rod ranks in the early 1990s, having already clocked up a decade of experience in the Junior Bangers at Smallfield (when he was just 15), the 1700cc Hot Rods and the Super Saloons at Layhams farm.
Debut

However, he didn't enjoy a dream start to his Spedeworth career. His first car – an ex-Terry Jones Toyota Starlet, bought for £1,000 – was written off at Wisbech in only its second outing after he collided with Rick Lemmon and was hit by Andy Steward. "I ended up throwing the car in the skip," he recalls. "All I could salvage was one wheel and the engine. The rest of it had been totally blitzed."
Undeterred, a rolling chassis was acquired for £400 and, after a handful of meetings, his first win was recorded at the now defunct Aldershot stadium. A move up to blue grade swiftly followed. An impressive double victory at the Ipswich Spedeweekend – where he won both the British Masters and the European Challenge Cup – signalled the arrival of a new kid on the block.
Within four years the Leatherhead-based star was sitting pretty at the top of the points, on the back of some impressive performances in a collection of mainly self-built Starlets, latterly powered by Dave Longhurst engines.
"I've got to be honest and say it helped when the top boys such as the Stewards and Mark Willis moved out of the formula," admits Andy. "The competition certainly got a little bit easier for me."
By the late 1990s he was forced to bow to peer pressure and buy a Vauxhall Nova – in his case an un-raced Tick Steward machine – which he started campaigning at fast tracks such as Ipswich, while keeping his trusty Starlet for Arlington.
However, he doesn't believe the switch to front-wheel drive cars has been good for the formula. "It was much more entertaining when everyone was in Starlets as the racing was more even and more affordable," he says. "It's still a good little formula, but we're no longer racing Stock Rods, they're more like 1400 Hot Rods."
Costs

In fact, he cites the amount of money required to be competitive – estimated at around £4,000 to get a brand new car on the track, plus annual running costs of over £2,000 – as a key reason why so few lower grade drivers stick around. The gradual introduction of racing extras such as adjustable caster and camber on both sides, along with stainless steel exhausts, have made it very expensive, says Andy, who doesn't want to see any more changes in the near future.
"It's too late to turn the clock back because people have already bought these bits, but I just hope the formula is now left alone," he adds. "In future, they should ask the top drivers from each promotion their views before changes are made."
By his own admission, Andy is in the fortunate position of being able to rely on the support of three key sponsors – Mark Fuller at FGS Engines, Tim Barnes Fabrications and K&S Moss who supply his tyres. "Without them there's no way I'd be racing," he agrees. "I haven't got a lot of money so all my success is down to the commitment of everyone involved. I've always said it's a combination of the back-up support and preparation in the workshop that wins the races." As well as his sponsors, Andy is keen to pay tribute to his brother Martin, fiancée Hayley and father Mick for their 100% support. In fact, Mick was also a useful Stock Car man in the old Magnette days before retiring to bring up Andy, Martin and their other brother Ian on his own after a marriage breakdown. "He had a hell of a job but did it superbly," says Andy. "That's why he'll forever be a top man in my world."
Success

The dedication of the 168 team was rewarded in 1999 with victory in the British championship at Wimbledon; a feat which was repeated in 2005. What may come as a surprise, though, is that these are the only two major titles Andy has to his name. Despite collecting a hatful of championships down the years, including the Southern and Super Sussex, his luck seems to run out when there's a roof at stake. That's not to say he hasn't come close. Runner-up positions have been claimed in the World championship (twice), European (twice) and National (twice). "I've probably had more second places over the last five years than any other Stock Rod driver," says Andy, shaking his head. "I have been leading all the championships at one stage, but something always seems to go wrong." Take 2005 for example. Although it's probably been his most successful year in terms of wins, the big races still haven't gone his way. By half distance in the 50-lap World final he was comfortably in the lead when his tyres inexplicably went off. "It was just like someone had jumped on the track and covered them with oil," he recalls. "I went into one corner and it had massive under steer, then in the next it was over steering. I knew then that I'd lost the World final and it felt like someone had ripped my stomach out."
His hopes of collecting the English championship evaporated when he got a puncture, while his quest for the European title ended in more controversial fashion thanks to a collision with arch-rival Stuart Smyth. In fact, the battles between these two have been an interesting side show in recent years. "I take my hat off to him as he's a very good driver and fast around most of the tracks," says Andy. "However, we've certainly had our differences in the past and we're never likely to always see eye-to-eye."
Opinions
While still on the subject of racing, Andy does have some serious reservations about how meetings are being clerked. Indeed, he feels so strongly about the issue that he has even threatened to pack up completely if it continues. "At times I don't think I get treated fairly down at Arlington," he says. "I seem to be the only one going around the outside, but if I end up touching another car on the way through, I'm black crossed, which isn't fair. I can get on the power when others can't because I've got a better handling car, but I'm being penalised for it." For similar reasons he doesn't relish trips north of the border. " Scotland just doesn't seem to work for me," he says. "The back of the trailer gets past Carlisle and it's like I've caught a disease. I just don't feel they are fair to me at Cowdenbeath." He cites being docked from second place in the World championship and getting disqualified for climbing out of his car during a stoppage in the opening laps of another final, as two of the reasons why he is reluctant to return."I didn't even go there to defend my ORCi championship as I wouldn't have won it," he says. "Even if I was a lap ahead, I'd either be taken out or something would go wrong and I just can't accept that. I'm certainly not slating anybody, but that's just the way it is."

Interests
Last season saw Andy scale down the number of meetings attended from 38 to 22, due to major building work being carried out on his house and the time constraints involved in running his own mobile phone business, AK Cellular.
Unusually for a top racing driver, he also has other hobbies. As well as playing golf, the West Ham United fan is a keen amateur footballer who plays regularly in the Surrey intermediate league. "Last Saturday I played football in the morning and as soon as the whistle went I got changed, jumped in the van and went straight up to race at Ipswich," he says. "I was late but at least I got there!"
He's also honest enough to admit that a distinct lack of cash is one of the principle reasons why he has stuck with the Stock Rods, although a switch to the National Hot Rods would be the dream move if money was no object. He's already had a short spell in the 2litre Hot Rods – where he reached red grade and notched up seven final wins in 18 outings – but the costs were getting too prohibitive, even with the support of his sponsors. "I still like the Stock Rods and they are one of the only truly national formulas," he adds. "It means that you can race all over England, as well as over in Ireland and up in Scotland, so if I ever fell out with Spedeworth I could go to Hednesford or Arena."
For the time being, however, he is planning to concentrate on pursuing the sport's biggest crowns. "I'll be 100% honest and say that I would dearly love to win a roof in the coming season," he says. "I'd love to retain my British, but I don't really care which one it is because winning any roof in a Stock Rod is very hard to do." By next March he should also have the services of a brand new Nova – the bare bones of which are currently sheltering under a tarpaulin in his back garden – in which to challenge for honours. Andy, however, is playing down his chances. "I normally follow a good year with a bad one," he adds with a grin. "I'm just hoping that's not the case in 2006."
* This article was published in Oval Racing News magazine.