Rob Griffin goes banger racing
Oval Racing News magazine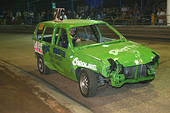 By Rob Griffin
"You must be mad!" That was the general reaction from my family and friends after telling them I planned to race a Rookie Banger. Some just openly laughed. I'm known for being quite a sedate driver on the roads so, in fairness, I can understand their bemusement at the prospect of me tearing around a track with 30 other lunatics!
I had seen the adverts for Cecil's Rent-A-Rookie business for a while, but it was only after interviewing the man himself – Steve Anscombe – for a profile in the last issue of ORN that I decided, on the spot, to have a go myself.
At that stage I was feeling very confident. My chosen meeting - Wednesday August 31st at Arlington – was still three weeks away, so there was plenty of time to either get mentally prepared or come up with an Oscar-winning excuse for not racing.
However, time has flown past. As I write, my debut is just a few days away, I've been allocated the race number 745 and Cecil has agreed to let me come to his workshop in Eastbourne, East Sussex, the day before the meeting to see the car being prepared for battle. It's too late to back out now.

Building the car
My chariot will be a big white G-reg Vauxhall Astra Estate which, when I arrive, is looking a little bit sorry for itself. One of her front tyres is flat, the windscreen is cracked and the bodywork is caked in a decade of grime. However, she looks strong, there are no (visible) signs of rust and the engine fires up at the first time of asking. Things are looking promising.
Vaughan Elms – an experienced hand at this game, having wielded the spanners for established stars such as Cecil and his brother Paul, Brian Tingley, Perry Clack and Jerry Ansell - will be doing most of the building work. However, the rest of the gang, including Chris Kirkwood, Simon Vincent, Mark Longhurst (Banger 310 Uncle Fester) and even Cecil himself – all pitch in during the course of the morning.
The first job is taking the windows out - at which stage Vaughan cuts his finger quite deeply and, with the absence of any plasters, patches it up with black insulation tape (they're a tough lot these banger boys!) - followed by the headlights, front bumpers and grill.
The interior is next on the agenda. Back and passenger seats disappear first, followed by all the carpets, door panels and interior lights. The dashboard remains, but all other non-essential items are binned.
Next it's time to get the seat positioned and the roll bar bolted in. Cecil's crew have built a number of these bars - equipped with space for the battery, fuel tank and fire extinguisher – which can be easily swapped between cars.
The Astra is then hoisted up to have its fuel tank cut off before being brought back down to earth for the side plate to be mounted across the driver's door. Then the back lights, rear bumper, spare wheel and number plate are taken away.
I climb into the car to have the safety harness fitted. It's all becoming a bit real now. "This is where your nerves will start," grins Cecil. He's not wrong. My stomach is already churning and I don't expect to eat much over the next 24 hours.
In less than two hours the car has been transformed. All that's left is for Cecil to apply the luminous green paint I've chosen (along with putting his famed signwriting skills to the test) and bolt on a set of alloy wheels. When it's finished, it looks absolutely superb. It's almost too good to race I suggest to Vaughan. "You're not getting away that lightly!" he laughs. I go home for a sleepless night.

Race day
The first real wave of nausea had kicked in about three days before the meeting. By 5am on race day – with almost 15 hours still to go before start time – it has reached intolerable levels and I'm pacing around the house. Spend most of the day watching racing videos, trying to pick up some tips. Nothing sinks in.
Finally, 6pm arrives and I'm at the track. I book in at race control and have a walk around the pits to check out the competition. It doesn't do anything to ease my fears. Most of the regulars are in attendance chasing track championship points, including reigning title holder Rob Haines (158) and Charlie King (204).
Part of me is hoping Cecil will ring on the mobile and tell me they've had a puncture and won't be able to make it after all! No such luck. Within a few minutes the Rent-A-Rookie entourage arrives with my pretty 745 machine sitting proudly on the back of the lorry. I have never felt so nervous in my life. Forget driving tests and sitting exams, this is on another level. "When the green flag drops your nerves will disappear," promises Cecil. I appreciate the sentiment but I'm not convinced.
Heat one
Well, this is it. Having watched bangers emerge from the darkened pits onto the floodlit track for almost 25 years, I can't believe I'm actually amongst them. Various family members – including my wife and dad – are in the grandstand and I manage a weak wave in their direction before taking my place towards the back of a 34-car grid. Tim James 522 (Weevil) is just in front, while (143) Becky Osborne's red and blue machine is on my inside. There is just enough time to compose myself before it's time to select first gear and set off behind the pace car. Halfway down the back straight I hear the engines in front of me roar and suddenly it's showtime! I drop into second, put my foot down and try to keep up with everyone else. We round the pit bend almost as one – relatively unscathed, thankfully - and head down the home straight for the first time. What a feeling! The car's handling like a dream and I'm having the time of my life. The crowds, lights and Armco are flashing past in a blur.
Second lap and the pack slows due to a bottleneck on the pit bend. I've got nowhere to go and end up getting turned around. The car stalls and I'm over a lap down by the time I coax her back to life. When I return to the action there are cars everywhere. I get some unwanted attention from the pink and green machine of the flying Simon Brown (450) which knocks me sideways on the entrance to the home straight. Somehow I manage to counter-steer, keep her pointing in roughly the right direction and get away. (Later, when I watch the race back on video, I see my escape was helped by Brown being taken out by Uncle Fester – thanks Mark!)
When the three laps to go board comes out I think I'm home dry…Too confident, Too early…Coming into the home straight I get shoved wide, cut in far too soon in my desperation not to give ground and collide with Rob Barnes (228), inadvertently taking him into the stationary 726 machine of Mark Pope. Barnes gets free but my race is finished. I toy with the idea of scrambling to safety but, with cars flying past me on either side, decide to stay put and wait for the chequered flag.
My trashed car is the last to be dragged back into the pits where the problems are diagnosed as a busted radiator and bent track rods. I fear my night is over but I've underestimated the ingenuity of Cecil's team. By the time the next banger heat rolls around, the battered Astra is ready for action. It's taken less than 15 minutes – a fantastic effort and thoroughly appreciated. "Go have some fun!" Chris shouts through the window. With his words ringing in my ears I head for the pit gate.
Heat two
This time around I'm feeling much more confident and have even got an inside starting position. For the first few laps the car feels great, but a puncture early on makes life rather difficult and I end up struggling to stay off the speedway track. Midway through the race I get hit by Rob Barnes and end up careering, out of control, across the shale and onto the grass! I climb out and inspect the damage, but it doesn't look too bad. My flat tyre is now completely shredded and the rim has dug a 12 foot long trench across the turf but, other than that, we're in pretty good shape. It's a lively end to the race with both Tyrone Poulter (52) and Tim James (522) rolling. Watching their antics, my disappointment at having to retire is quickly replaced by an overwhelming feeling of relief.
The final
I can't believe I've managed to get out for all three races. The field is down to just 21 cars and, for the first time, I take in everything around me: The spectators staring at you from behind the fence, the menacing rumble of engines, the little nods between the drivers. It's intoxicating. All I can think about is when I can experience it again.
We start off and the car is flying. I've even got the confidence to put my foot flat to the floor down the straights where you can reach speeds of around 50mph. Despite the now obligatory spin and stall, everything's going well. At this stage, the sensible thing would be to take it easy, stay out of trouble and actually finish a race. However, as I come up behind Harvey Duvall (417) – who is having a nightmare time - I get a bit too cocky and decide to have a go at spinning him onto the shale. Unfortunately, due to a combination of my lack of skill behind the wheel and our cars getting tangled up, I end up stuffing him hard into the Armco. I see him look in his rear view mirror and fear I could live to regret it. Gulp!
I don't have to wait long. A lap later I'm facing the wrong way around after being spun out on the pit bend and my trusty Astra is now refusing to start. As I glance up, I see Harvey's battered blue and yellow car, steam pouring out of the radiator, bearing down on me. This is going to hurt, I think, and brace myself for the worst. It does. He slams head-on into me and brings my night to a formal conclusion. There's no sign of life from the engine, I'm stuck against the Armco and the gearbox appears to be jammed. I climb out – Dukes of Hazard style through the side window – and clamber over the safety fence. Almost immediately the red flags are brought out after another head-on elsewhere on the track. "Excuse me mister," says a little boy in the crowd, as I'm fumbling with my crash helmet. "Do you ever think you're going to die out there?" "Yes," I laugh. "About two minutes ago!" I catch up with Harvey, apologise for my obvious incompetence and we shake hands. The restarted final – now down to just five laps – is won by Rob Haines. I walk back to the pits to change out of my race overalls feeling absolutely elated. It's a bizarre feeling when you're out on the track. No-one could have been more terrified than me, but the first thought when I had been spun out was getting the car back into the race. "You'll be back for more," says Mark (Uncle Fester) as he sees my grinning face. "Now you know why we go racing," adds Cecil. Too right. It's been the biggest adrenaline kick of my life.
Postscript
The Astra was a cracking car and, in the hands of someone who knew what they were doing, it would have been well on the pace. Watching the video of the meeting a week later it's clear I was guilty of some pretty woeful driving, but Cecil supplies some words of encouragement (or manages to lie convincingly). "You were alright," he says. "It's the same with everything, the more you race, the better you'll become."
Considering the amount of work involved in building and maintaining a car – not to mention the thrill of actually getting on the track - the £150 spent hiring a Rookie for the night is an absolute bargain. Despite promising my wife I have now retired from the sport – her first words to me afterwards were "Don't put me through that again" – I'm still on a high three weeks later. Now, where did I put Cecil's number….?
This article was published in Oval Racing News magazine